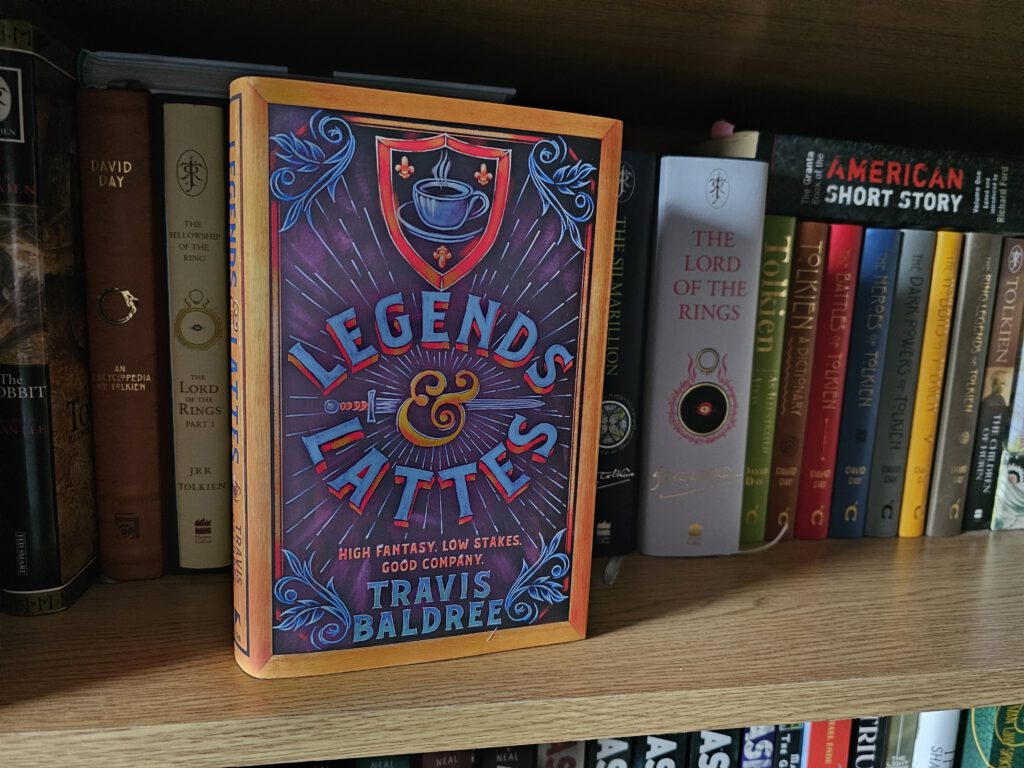 Travis Baldree is an American game designer/audio narrator and now author, he is well known for his debut novel Legends & Lattes which was self-published in 2020 originally, but was then picked up to be traditionally published with Tor. It is interesting to know that this novel was first done as part of the National Novel Writing Month event. In November 2023 Baldree will release his prequel novel to Legends which is Bookshops and Bonedust.
This novel's main protagonist is Viv, an Orc who has spent her life adventuring and now wants to hang up her sword and start a new chapter of her life. To help with setting up this new life she seizes an object that is rumored to grant good luck. With this in hand, she sets out to find the perfect place to build her dream. This ends up being the city of Thune.
We follow Viv as she goes through the process of building her shop and meeting new friends along the way. The group is a strange mix, each of the main characters has their own issues but finds themselves in good company together. the characters all feel real and you really root for them as they strive to build something together.
I had never before heard of the sub-genre Cosy Fantasy before I saw this book on the shelves and I must admit, the cover is what drew me in, bright and vibrant and the image of Viv and Tandri evokes a strong feeling of a warm coffee shop that just made me feel relaxed looking at it. The book styles itself as "low stakes and high fantasy" and this is the essence of the genre. I didn't know how I would take to this as I am used to reading very high-stakes and long fantasy epics.
However, I am happy to say that this book was a really enjoyable read. Despite it not being crammed with action I found myself pulled along with Viv's journey, rooting for her gamble to pay off and feeling the sense of family that builds up throughout the story. it was a gripping read that I struggled to put down and I ended up reading it in a day, the book didn't feel rushed at all which was really good. I was quite sad when I reached the end of the story as I wanted to read more of Viv's new adventure. Some people may not like that the story isn't rushing from scene to scene with a lot of action, but that is not what this genre is and there are action scenes scattered throughout and a lot of tension when Viv deals with the local crime boss. But as I have said it's more of a relatable journey that you are taken on.
Travis Baldree has been compared to Terry Pratchett and although I can see the similarity it's different, more muted, and subtle. This was a great comfort read and I love what Travis has done here. I am looking forward to reading more from him in the future.
You can buy this book at your local bookshop and it's great to support the indie smaller bookstores. Bookshop.org is a good place to help support indie shops.
If not you can buy it at Waterstones or Amazon.