Ren Hutchins is a speculative fiction writer and a history graduate. Ren has worked in game development while working on science fiction novels. From reading about Ren it seems she is an avid sci-fi fan which is always good in an author of sci-fi for me.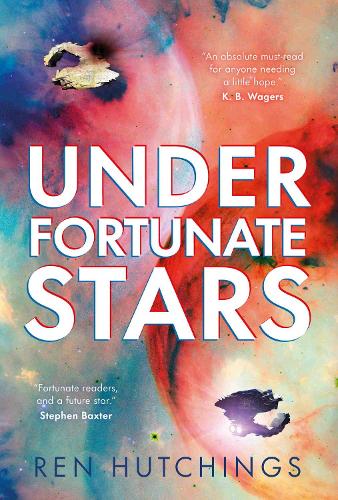 Under Fortunarte Stars follows two ships brought together with a chance to save the future. Smuggler Jereth Keeven is fleeing the war with the alien Felen until they are drawn into a mysterious rift. Aboard the research vessel Gallion which was likewise drawn into this rift the chief engineer Uma who is obsessed with the famous fortunate five must try and solve the mystery before they are trapped when their ships run out of power in this strange place.
I was in a bookshop and looking for something Sci-Fi as I have been reading a lot of Fantasy lately, I picked this up as I fancied a change. I started to read it and found myself struggling to put it down. It was a great story and a brilliant first novel for Ren Hutchins. I know people take in things differently but the ending was quite clear to me as I was reading through, but I will say that this did not detract from my enjoyment. The story flows well with flashbacks to show how some of the crew ended up where they are. I am not usually a fan of the flashback too much but in this case, it was well used to tell the overall story. The stakes are high for all of the characters and yet Ren writes them in a way that it is a fun journey, despite the potential risks. the character development throughout the book is good and I really liked the way in which Jereth and Eldric interacted. The interactions of Jereth and Uma were enjoyable. Jereth is the typical bad boy who is trying to do right while making the best of a situation.
All in all, this was a very enjoyable book and I would definitely recommend it to any Sci-Fi or action/adventure fan.
You can purchase Under Fortunate Stars from your local Bookshop supporting indie bookshops is important and something I am very in favor of. I like nothing more than to browse physical books. Or if you want you can shop online through the usual suspects. (Waterstones, Amazon)