Thomas Holt is a British author who also writes under the pen name K, J Parker. He is known for his writing style to be humorous. His main genre is comedy/fantasy but he has also written historical novels and wrote a satirical autobiography of Margaret Thatcher with Steve Nallon.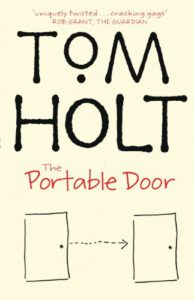 The Portable Door has recently been made into a film for Sky, this was what made me pick up my copy as I wanted to read it before watching the film. The book's main protagonist is Paul Carpenter who has been abandoned by his parents and needs to find a job, he applied for a filing clerk job and is offered the position at JW Wells. He starts the job and sees that Sophie who he met at the interview was also taken on. They will be working together and from the start, Paul is besotted and tries his best to impress Sophie. It doesn't take long for them to realise there is something strange about their new employers and both of their lives are thrown into chaos. As the title gives away while doing a task for his strange new employers he finds the Portable Door which allows him to travel anywhere he wants, although there are limitations. As you can imagine this gets him into all sorts of trouble.
I am a fan of Terry Pratchett and Tom Holt has been compared to him because of the comedy style of writing, but it's not quite the same. The world is viewed through the lens of Paul Carpenter and he is a very mundane person, stumbling his way through life. As I was working my way through the book I was starting to struggle with how negative and self defeatest Paul and Sophie are, but there was something about them that made me want to keep reading. that and the way Tom writes the characters were funny and kept me enjoying them even when I was struggling to not put this down and move on. Thankfully that didn't last too long and the book pulled me in, from then I struggled to put it down. I found the story captivating and the characters well-written and entertaining. I always like the idea of a magical fantasy type of world hidden in plain sight.
this is the first book in the series and finishing this made me quickly go out and buy the rest of the series, I look forward to reading them. If you are a fan of comedic writing I would definitely recommend this book and as I've said if your struggling with it at the beginning, persevere as it's worth it.
If you do like this definitely check out Terry Pratchett's Discworld books.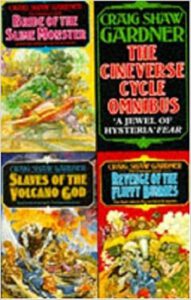 Another to look out for is Craig Shaw Gardiner's Cineverse Cycle Omnibus (three books in one volume), these are really good and I have re-read the book several times.
The Cineverse Cycle
Slaves of the Volcano God (1989)
Bride of the Slime Monster (1990)
Revenge of the Fluffy Bunnies (1990)