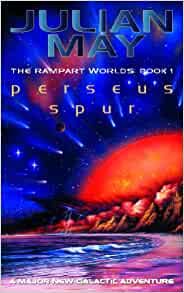 Julian May was an American Science Fiction & Fantasy author. She passed away in 2017 and authored many amazing books. She achieved success with the Pliocene Exile/Galactic Milieu series. Although she published over 250 novels/short stories under her own name and Pen names (Ian Thorne, Lee N Falconer, and Tobert Coulson)
Helmut Icicle was a normal bum on Kedge-Lockerby a small unimportant planet in the Spur, he takes divers on trips to explore the marine life on this world. This is until a giant sea toad eats his home and assassins start to try and kill him. Now he must leave his quiet life to track down his would-be killer and solve the mystery of the disappearance of his sister.
Took me a while to track down the right format for this book as I already had books 2 and 3. Once I got it I started reading and finished it in quick order. This is a very good space opera spanning the galaxy with alien races, fantastic spaceships, and action and intrigue. The protagonist builds his team of motley travelers and sets out to solve the mystery of who is trying to kill him and why. As you move through the book the mystery continues with more and more surprises with the alien Haluk involved somehow.
I have only read book #1 so far in the Rampart World series but it has been an engaging read. The characters are both fun and interesting and the world-building has been really good. Julian May does a really good job of describing these alien worlds and making you feel like you are there in the thick of the action. The caves part of the book was both exciting and stressful, but I can't say more… spoilers. I have read a few reviews of this book that do pick at the "product placement" of some items, I must admit it didn't even phase me, I don't think companies like this will disappear in the future we will always need consumables so this didn't stop me at all.
When it comes to reading I can be easy to please with Fantasy & Science Fiction but it's because I love reading so much and live these stories inside my head as I am reading them.
If you like science fiction space operas that are a good read but don't take themselves too seriously this is worth your time.