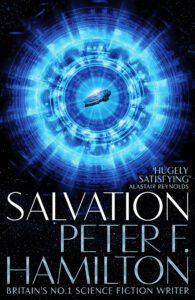 Peter F Hamilton is a British science fiction writer and is most known for writing space opera. he is most known for the Night's Dawn and Commonwealth Saga (Void trilogies and Fallers) and it's fair to say he is one of my favorite sci-fi authors.
This book starts the series, Salvation Sequence. It is based in the near future setting up a crisis that needs investigating when a spaceship is found crashed on a newly discovered world with surprising cargo. The world-building is slightly different than his other stories and is refreshing. The storytelling although taking place in the near future is used to tell a series of short stories from the past, giving you the background on how each of the main characters gets to this point. It also jumps to the future and shows the fallout of what is happening in the present.
I was looking forward to reading this as I am a big fan of PFH and his other works, especially Night's Dawn which is one of my favorites of all time. This one was very different to me and I felt it was a slow build-up with the way the story is built, all of the jumping from the past to present to future and POV jumping was a bit confusing. That is not to say it's a bad thing I just found it harder to read than his other works so it took me longer.
I know this review could come across as negative but it is a good story and as we reached the end and we saw the reason for all of the build-up the story started to grip me and it left me wanting to continue to the second book to see what happens. So I would recommend this for PFH and sci-fi fans if you can get past the slow build-up.