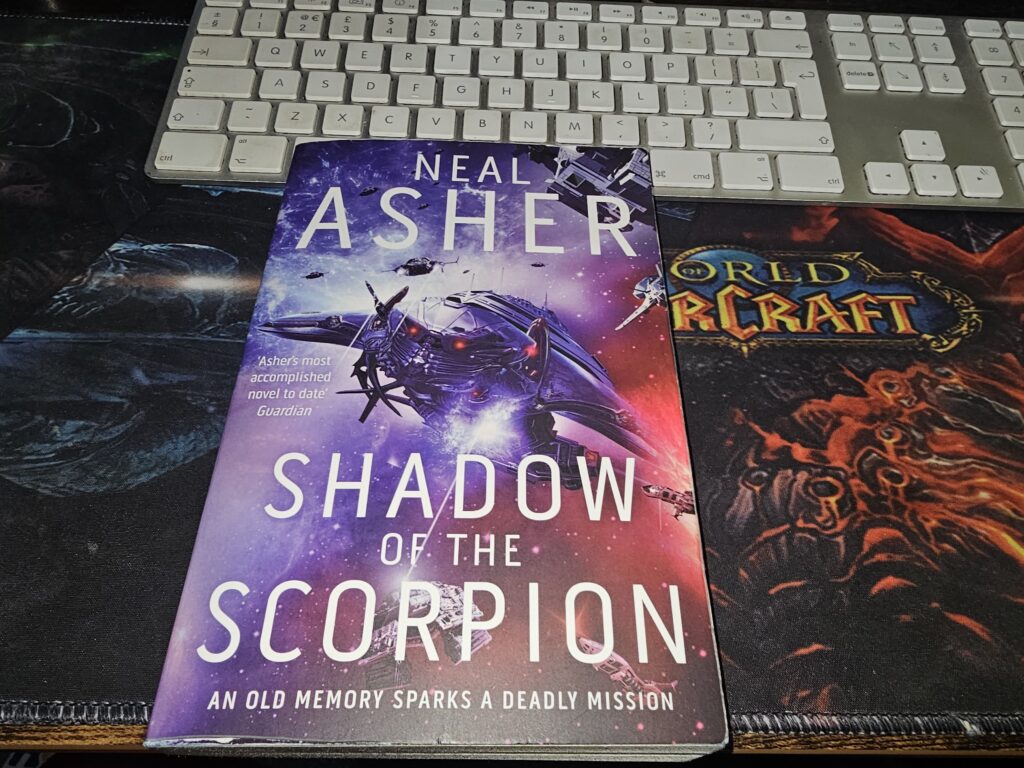 Neal Asher is a British Science Fiction writer who has produced a whole raft of books. His main body of work is his stories in the very detailed and technologically advanced Polity Universe, standalone as well as series within this shared universe. Neal is known for his militaristic space opera which is action-packed and explores AI, and complex ethical and political questions faced in this future.
Shadow of the Scorpion follows Ian Cormac who signs up with ECS (Earth Central Security) he is then sent to restore order on worlds devastated by alien bombardment. While there he finds a new capacity for violence in himself and is haunted by my childhood memories of the Scorpion War Drone. He will try to find out more about his past while completing his mission for the ECS.
Wherever possible I try to make these reviews as spoiler-free as I can so you can go and enjoy them yourself, but just in case….. Warning possible small spoilers ahead.
I love sci-fi and space opera so this was just up my alley. I picked it up from my library as it had been a while since I had read Prador Moon and I am reading them in order. I was having a break from Children Of time. I found I couldn't put this book down and finished it quickly. Ian is assigned guard duty on a downed Prador ship when a traitor in his midst steals some very dangerous weapons from the ship. This starts a frantic pursuit across the worlds. Intermixed with the action of this chase there are the flashbacks that deal with the memories of the Scorpion and what this means to Cormac. I am not usually a fan of flashbacks as they can feel info-dumpy, but in this story, they are interwoven with the plot so you feel like you are learning more and more about Cormac as he progresses through his story. The war drone is a mad AI and throughout I had my notion of what it was and I smugly waited for the reveal…. but I was wrong. which was a good surprise. 🙂 The book does a good job of developing Ian's character and taking you along on the journey. delving into his traumatic past and dealing with the ethical decisions of his mother when she decided to edit his memories. Something that apparently anyone can do in this futuristic age. This in itself is an important story to tell, then there is the future society which is ruled by the AI and looking at how this works. I must admit for once it is nice reading a book that doesn't portray AI as being all evil wanting to destroy Humanity.
This book was written after the Ian Cormac series but as I have been reading them in chronological order I haven't got to that yet. This book was obviously a book to introduce Ian Cormac, but it was done in a nice and satisfying way for me. I loved the book and am looking forward to more Polity and Ian Cormac. A fantastic Science Fiction read for any fan. Get reading it.
You can purchase Shadow of the Scorpion from your local Bookshop supporting indie bookshops is important and something I am very in favor of. I like nothing more than to browse physical books. Or if you want you can shop online through the usual suspects. (Waterstones, Amazon